[vc_row][vc_column][vc_column_text]FR, Fundación Renovables, main aim is to raise awareness of the need to change our energy model by putting savings, efficiency and renewables as fundamental principles. There are many reasons that drive us to push this transformation.
We urgently need to alter society's vision of energy. Much of society perceives energy as being abundant, safe and that we can consume it without limits. In fact, quite the opposite is true. Our energy dependency shows abysmal rates. Over 70% of the energy we consume is imported. We are one of the most dependent countries in Europe, which brings all the economic and strategic burdens that that entails. While most European countries are decreasing GHG emissions, Spain is one of the countries in Europe with the highest increase – 3.2% in 2015. And we are also one of the countries where energy poverty has grown the fastest in recent years
FR was founded by professionals with significant experience in the renewables energy sector. Since then, many citizens who want to be part of the change have helped the foundation grow: researchers, activists, energy professionals, politicians, and consumers. Together we are committed to the transformation.
FR is a vocational partner for dialogue in the energy debate. This debate is becoming ever more necessary. It is also an instrument for Spanish society, which is more inclined to ethical economics rather than traditional economics, to the future rather than the present, and to urgency rather than complacency.
Transformation is our opportunity. The technological change of renewables represents a priceless possibility to help change the Spanish economy – its sectoral base and create jobs, and for progress in democratization and transparency.
FR also works with other European and international partners, and contributes to the transformation of European and global energy systems.
FR is devoted to improving technical knowledge around this vision, and to do that we ask all those people and institutions who wish to join to collaborate and support us.[vc_row local_scroll_id=»new-vision»][vc_column][vc_column_text]
A new vision for energy
Energy is a basic, limited and precious resource that must be universally available. It has a direct impact on our life quality, the environment and the safety of the planet. Today, access to energy sources determines the present and future of countries, their economic and technological outputs and, due to concurrency, interrelations among them.
It is in society's interest to consume the least energy possible. We need to focus on the satisfaction of services because energy has an economic and environmental implications.[vc_row local_scroll_id=»obsolete-system»][vc_column][vc_column_text]
An obsolete system
A system based on massive use of fossil fuels and nuclear energy causes irreparable environmental damage while limited resources mean a progressive cost increase. Anticipating a future crisis of energy supply and the devastating consequences of climate change is an urgent societal task.[vc_row local_scroll_id=»sustainable-system»][vc_column][vc_column_text]
A sustainable system
An economy that gradually stops being dependant on fossil fuels, uses energy more efficiently and advances progressively towards 100% renewable sources is the way to accelerate progress towards a new sustainable zero carbon energy model.
Renewable energies should be understood as a strategic framework for inter-generational solidarity and which means future generations won't inherit our energy supply problems, environmental pollution and nuclear risks.
Renewable energies must also promote intra-generational solidarity, by guaranteeing access to all citizens -which includes those who have less. It must promote transparency, social scrutiny, public participation and democratic decision making.
In this new model, energy planning should be a nexus between a renewable energy supply and a flexible and rational energy demand. Proactive demand management should be the main focus for renewable energy penetration.[vc_row local_scroll_id=»Benefits»][vc_column][vc_column_text]
Benefits of Renewable energies
Environmental Benefits. Renewables are the most efficient technologies at reducing CO2 emissions and improving energy intensity.
Socio Economic Benefits. Renewables have a positive impact on national GDP, by reducing oil and gas imports and on the available income for consumers. They create new economic sectors and jobs, contribute to national industry development and national fast maturity technologies.
Cost Benefits. From a cost internalization perspective renewables are a long away from being the most competitive sources. But additionally, renewable energy costs are falling and they will become the cheapest way to produce electricity in the very near future.[vc_row local_scroll_id=»neweconomy»][vc_column][vc_column_text]
A new economy
Renewables are one of the main tools to bring about change in cities and can help integrate urbanism, edification and transport. All renewable energies are complementary to achieving almost 0 building emissions and a sustainable mobility system.
Changing the energy system will trigger a wider economic change that can generate quality jobs and welfare. It can catalyze new industrial green and sustainable sectors.
Renewables are by nature inexhaustible and available locally. Citizens worldwide can and must be guaranteed access to this energy, especially those who lack access now. FR defends everybody's right to access renewable energy.[vc_row local_scroll_id=»proposals»][vc_column][vc_column_text]
Proposals to face global challenges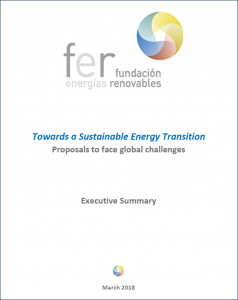 Fundación Renovables presents its Energy Policy Proposals to Spanish society as a contribution to the necessary national debate on the Energy Transition that we head toward. "Towards a Sustainable Energy Transition" is the update and expansion of the document presented in October 2015 upon the December election calling of that year, "La energía como vector de cambio para una nueva sociedad y una nueva economía" «Energy as a vector of change for a new society and a new economy», to which we give continuity in ideas and approaches, but with much more ambition.[/vc_column_text][vcex_spacing][vc_column_text]
The Social Contract of Energy: Electrify to democratise
Fundación Renovables presented the report "El Contrato Social de la Energía: Electrificar para democratizar" (The Social Contract for Energy: Electrify to Democratise), which represents significant conceptual progress. It compiles all its ideas, proposals and analyses published over the last nine years, which consider energy to be a necessity good to which the public should be guaranteed access. The most significant ideas include the claim that the signal price responds to pay-per-use and not to investments, and the conclusion that the traditional sector can no longer lead a radical change that goes against its own interests.[/vc_column_text][vc_column_text]
The moment of truth for the EU
Domingo Jiménez Beltrán, Trustee of the Fundación Renovables and Former Executive Director of the EEA, has published an article that urges the European Union to present its strategy to neutralize all emissions as soon as possible, but at the latest before 2050, according to the Resolution recently adopted by the European Parliament, which declares «climate and environmental emergency». It is the moment of truth for the EU to lead by example the global change.[/vc_column_text][vc_column_text]
With the new Regulation 2020/852, the European Union  to facilitate sustainable investments runs the risk of opening up opportunistic routes for increasing GHG emissions.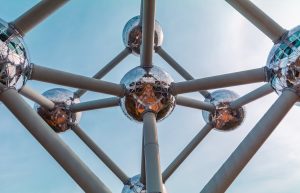 The new European Union (EU) Regulation 2020/852, for the establishment of a framework to facilitate sustainable investments, which entered into force 12 july, could increase the potential risk to slow down  the increasingly necessary energy transition as its new taxonomy enables investments in polluting technology and non-compliance with the targets of the Paris Agreement. 
[vc_row][vc_column][vcex_spacing][/vc_column][/vc_row]